S.S.200 vs S.S.304


Why Use 200 Series over 300 Series?
Steels with Cr-Mn-Ni-N composition were called 200 Series of Stainless Steel. The principle difference between 300 series of Stainless Steel and this series was that the Nickel used in 300 series of Stainless steel was partly replaced by Manganese and Nitrogen. Nickel being a costly metal, the obvious advantage of 200 series was cost effectiveness.

During period of Nickel shortage 200 series of Stainless Steel have been used across the board to replace 300 series of Stainless Steel with only minor design and fabrication adjustments.

It was found that 200 Series have 40% higher yield strength than 300 series. The physical and mechanical properties of both series are quite compatible. 200 series also has additional component of Carbon, which gives higher effectiveness to the austenitic nature of Stainless Steel.

201 and 202 stainless steels have properties similar to 301 and 302 series in annealed and cold rolled conditions and perform similarly. This steel can be formed in the same equipment that is used for 300 series with the same lubricants and annealed tempers of this Cr-Mn-Ni-N steel is much suitable for deep drawing.

304 Stainless Steel is used in a kitchen utensil to a nuclear reactor. 201 has comparable properties for kitchen utensil application. 200 Series has been used in variety of applications in India for nearly 10 years running into a production statistics of 200000 MT in 1988 to 600000 MT in 1999.

Usage of 201 will give much higher value for money because of lower initial cost for the suggested application.

Thus other things being equal cost effectiveness of 200 series, leads to the conclusion that it is preferable to use 200 series of Steel over 300 series.
Why 200 Series is cheaper than 300 Series?
200 Series of Stainless steel is produced using the

same methods

as for 300 Series and by using the same machineries. The temperature range used is also the same.

However 200 Series steel has 40% higher yield than corresponding 300 series stainless steel. Also

Manganese and Nitrogen which are cheaper

replaces Nickel, which is the costlier material.

Thus 200 series of Stainless steel are cheaper than 300 series of steel.
By cheaper price are we compromising with quality?
No. This material gets an economic advantage by redesigning the chemistry and achieving the relevant properties for utensil manufacture comparable to 304 Grade SS. Therefore this is not by sacrificing quality.

Austenitic structure confers valuable properties, which enable Stainless steel to

be cold worked

. Cold drawn and deformed into any shape required by process industries. Austenitic steels have

good resistance

to corrosion and oxidation and can be used for variety of applications involving handing of chemicals and in processing industries. Materials like Nickel, Manganese, Nitrogen stabilizes this austenitic nature of steel. Manganese is a weak stabilizer than Nickel and Nitrogen is stronger to Nickel.
What is the chemical composition of 200 series steel produced
| | |
| --- | --- |
| Grade | S14 |
| C | 0.07-0.09 |
| Mn | 9.2 - 9.4 |
| Si | 0.4 - 0.6 |
| P | 0.0075 |
| S | 0.015 |
| Ni | 0.75-0.95 |
| Cr | 14.8-15.2 |
| Cu | 1.7 - 1.9 |
| N2 | 1550-1750 |
What is the effect of Chromium in Stainless Steel ?
Chromium is the

alloying element

that imports to stainless steels their corrosion resistance qualities. It does this by combining with oxygen to form a thin, transparent chromium oxide protective film on the metal surface.

The chromium oxide film is

stable and protective

in normal atmospheric or mild aqueous environment and it can be improved by higher chromium, by nickel and molybdenum and/or other alloying elements.

Chromium

improves film stability

, chromium and molybdenum

increases resistance

to chloride penetration and nickel improves film resistance in acidic environments.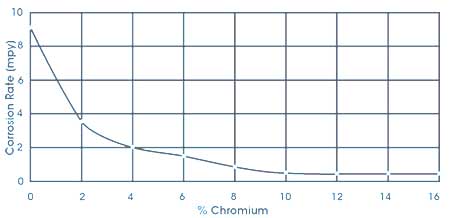 In the event that the protective film is distributed or destroyed, in the presence of oxygen in the environment it reforms itself and

continues to provide protection
Does Carbon affect the corrosion resistance of this Steel?
Corrosion resistance is dependant on Chromium and the degree of polish obtained. As far as Chromium is concerned the free Chromium oxide film which is impervious for corrosion attack.
As its well known carbon can combine with 17 times its own weight of chromium helps to achieve to form carbides. In this case this works out 0.09 x 17 = 1.53. The minimum Chromium maintained in these Steel is 14.5% so the recommended level of atmospheric conditions the chromium does not play any significant role in Corrosion resistance.

So the Carbon content does not affect Chromium content much and thus does not affect corrosion resistance properties.
Can Copper be a health hazard?
Copper is in solid solution in austenite and the level maintained in this type of Steel is only 1.8%, which is much lower than the solubility limit of Copper which is 4%.

Thus there is no evidence of adverse effect due to presence of Copper.
With less Nickel content is the Steel corrosion resistance?
Nickel does not directly contribute to corrosion resistance, under normal conditions.
It only helps to stabilize the austenitic structure, improve formability characteristics and heat resistant characteristics.
In this case the austenite stability is achieved through higher Manganese and Nitrogen (Austenite stabilizes) and formability is achieved through controlled addition of Copper. Therefore lower Nickel does not result in any negative factor.
In What ratio Manganese and Nitrogen replace Nickel?
Materials like Nickel, Manganese, Nitrogen stabilizes this austenitic nature of steel. Manganese is a week stabilizer than and Nitrogen is stronger to Nickel.

0.26% of Nitrogen can replace 8% Nickel
4-7% Nickel is replaced by 7-10% of Manganese and some Nitrogen and achieve clean steel.
Why use Circles over Sheets?
Circles and Sheets are produced the same way but the advantage of circles being that they produce less scrap material as compared to sheets. Most of the vessels and utensils (which are made from this material) are of circular shape hence even from the sheets, circle needs to be cut, thus producing scrap material. This scrap material produced has no resell value and can only be junked.

Thus using circles over sheets one can reduce the actual cost.
Any special care required in formability and welding?
The equipments used for 304 can also be used for 203 including the lubricating however we advice the following guidelines to be followed :

Deep drawing ratio : 2
Elongation by spinning : 30%
Production sequence in one go
All welding equipments same as 304 Grade can be used.


Note : Information in this document is only for the general characteristics and propertise of our product. For requirement of exact report you should contact technical department for same.